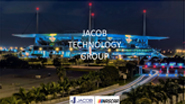 READ OR DOWNLOAD:
Jacob Companies
Official Technologies Provider for Jacob Companies
Jacob Companies one of the largest builders in the US based out of West Palm Beach Florida is the parent company of Jacob Technology Group (JTC). With projects such as Dolphins Stadium / Sun Life Stadium Renovation, Banyan Cay Resort & Golf, Jacksonville Jaguars Stadium and Chewy.com buildouts, General Motors Delivery Center and many more, JTC will give your project the same respect as our largest ones.
Commercial Construction
Technology Services
Our team provides complete end to end information transport systems including structured cabling, desktop and server relocations, on-site services and documentation services. We specialize in delivering intelligent cabling solutions that unite critical data, voice, video and low voltage building systems onto a single, unified physical infrastructure that provides cost savings and sustainability.

Audio Visual Systems
The Jacob team is an experienced end-to-end provider of audio visual collaboration solutions that improve our client's operations. We work with clients to develop a technology roadmap for the long-term feasibility of solutions that improve communication and collaboration while providing a coherent experience across the organization.

Wireless Solutions
We differentiate ourself from the wireless industry by working with its clients to craft a strategic enterprise strategy for wireless infrastructure and applications. We create a system design and architecture with an actionable deployment plan that combines long-term vision while preserving the basic principles of security, performance and reliability.

Electrical Contracting
The Jacob team offers a multitude of full service electrical contracting solutions that include power, lighting, high voltage maintenance, underground, mission critical and more. Our skilled team of experts will design integrated systems to improve building control, management and security, while lowering energy consumption.

Security Solutions
The Jacob team provides business intelligence and security solutions for single site facilities to enterprise wide integration. Services include access control, IP video surveillance, intrusion detection, emergency notification, intercom and paging, perimeter protection and next generation LEED based building solutions.

Managed Services
Our managed services program provides cutting-edge, web-based, custom applications with a single point of contact for resource coordination and management of bid specifications and scope, design and engineering, material and labor logistics, and deployment. By instituting economies of scale with labor, pre-negotiated material pricing, support and volume based rebates, our team is able to generate efficiencies in the workflow process and reduce operational expenses for its clients. Services include MACD's, server migration, asset management, global voice management, desktop relocations, break/fix, move management, decommissioning and abatement and Day-two support.
Bundled Services
Jacob offers the ability to bundle equipment and services in order to save the customer money! Our services include: Structured Cabling, VoIP / Phone Systems, Surveillance, Audio Video, Optical Fiber, Multi-Dwelling, and Subcontracting technical services. We are your one-stop-shop for every communications solution!

Whether your company needs one work station or a complete call center, Jacob is the professional telecommunications company that can get the job done! Aside from working with residential and commercial customers, Jacob can also be subcontracted by other telecommunications companies on a per-project basis to fulfill installation and/or service maintenance contracts.