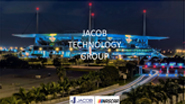 READ OR DOWNLOAD:
Jacob Companies
Official Technologies Provider for Jacob Companies
Jacob Companies one of the largest builders in the US based out of West Palm Beach Florida is the parent company of Jacob Technology Group (JTC). With projects such as Dolphins Stadium / Sun Life Stadium Renovation, Banyan Cay Resort & Golf, Jacksonville Jaguars Stadium and Chewy.com buildouts, General Motors Delivery Center and many more, JTC will give your project the same respect as our largest ones.
System Architecture
Your legacy network systems architecture wasn't built for today's demands. We can help you with that.


Complex applications. Anywhere-everywhere access. You've got a lot of demands. Your systems architecture may be limiting your organization's potential for productivity, and could be putting your network at risk.

JACOB partners with industry leaders for systems architecture services that will help you take advantage of today's technologies and workloads, and position your organization to compete.

Systems Architecture Services


The JACOB Difference
Flexible Options
Whether it's a simple refresh to achieve a specific goal or a customized configuration that enables mission-critical technologies, our systems architecture engineers will assess your needs and ensure a solution that meets today's and tomorrow's demands.

Top-shelf Vendors
We partner with HP, Cisco, EMC, Dell and others to take advantage of their strengths in networking, security, storage, servers, applications, end-user devices, and wireless solutions.

Certified Support
Our in-house staff is manufacturer-certified, enabling us to work on your existing infrastructure as well as our vendors' emerging technologies.

Program Management Office
Our expert Program Management Office engineers ensure successful outcomes within time and budget constraints.

Nationwide Reach
We can deploy at facilities around the country, and deliver products on-demand from our 46 distribution centers.

JACOB Systems Architecture Services:
Increased Mobility
Satisfy your users' anytime-anywhere demands with access to mission-critical resources on or offsite.

Reduced CapEx
No need to rip and replace. Save CapEx costs by adding secondary connections or integrating new components to your legacy network for a faster ROI.

Higher Availability & Better Performance
Your users will be more productive when they have more reliable access to the applications they need without interruption.

Improved Security
No longer guess at the health and security of equipment and protocols. Properly architected networks can improve security with a pulse on the entire infrastructure. Working with our Backup experts adds a failsafe business continuity strategy to your operation.

Better Oversight & Lower TCO
Our Architects will work with your team to ensure we all have a solid understanding of where you are and where you want to be. We will recommend solutions to get you there without tossing out assets that still have value to the organization.
Need Anything Else?
Networking clients often purchase these products:


• Networking Workstations

• Managed Switches

• Security Routers

• Secure Wireless

• Network Security

• Network Cables

• Transceivers and Multiplexers

• Video Conferencing


JACOB offers next-gen IT solutions. But we also offer more IT products and faster delivery. If you're a business, government agency, school or not for profit call us today.