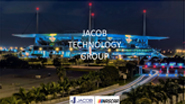 READ OR DOWNLOAD:
Jacob Companies
Official Technologies Provider for Jacob Companies
Jacob Companies one of the largest builders in the US based out of West Palm Beach Florida is the parent company of Jacob Technology Group (JTC). With projects such as Dolphins Stadium / Sun Life Stadium Renovation, Banyan Cay Resort & Golf, Jacksonville Jaguars Stadium and Chewy.com buildouts, General Motors Delivery Center and many more, JTC will give your project the same respect as our largest ones.
Surveillance Cameras/Systems
A certified provider of Video Surveillance products, Jacob offers a wide range of network-centric video surveillance software and hardware that supports video transmission, monitoring, recording and management.


These products protect clients' existing investments in analog equipment, while enabling these devices to operate as part of an IP-based network-centric deployment. Video surveillance products enable any-to-any multi vendor device interoperability, allowing businesses to build best-in-class video surveillance systems that optimize price, performance and capability. Using an integrated services platform, this provides instant replay and time-date lookup of selected video at the touch of a button, as well as case management utilities such as "tagged" video. Our solutions are capable of continuous, scheduled, alarm and event-triggered and motion activated recording. Pre and post-alarm, event-based, and motion-triggered recording is fully programmable per video channel.


Video Surveillance Features Include:
• Search capabilities based on cameras, event triggers, and time and date

• Digital, compressed video storage with authentication

• Video activity detection

• Pre and post-alarm/event recording

• Simultaneous recording and playback

• Multiple playback sessions

• Video export with secure authentication watermarking

Let us design the perfect video solution for you.

Need Anything Else?
We have advanced in-house Security expertise. Contact us to learn more about:

• Next-Generation Firewalls

• Multi Factor Authentication

• Network Access Control

• Mobile Device Management

• Data Loss Prevention

• Security Information

• Event Management


Cybersecurity clients often purchase these products:
• Firewalls

• Endpoint Security

• Web Filtering

• Content Filtering

• Network Monitoring Device

• Security