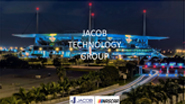 READ OR DOWNLOAD:
Jacob Companies
Official Technologies Provider for Jacob Companies
Jacob Companies one of the largest builders in the US based out of West Palm Beach Florida is the parent company of Jacob Technology Group (JTC). With projects such as Dolphins Stadium / Sun Life Stadium Renovation, Banyan Cay Resort & Golf, Jacksonville Jaguars Stadium and Chewy.com buildouts, General Motors Delivery Center and many more, JTC will give your project the same respect as our largest ones.
Networking
You're juggling network connectivity, availability and security. We can make it easier.


Users demand BYOD and mobility, but management demands endpoint security. SLAs are getting tighter, but you can't meet mandatory uptime metrics. You've got some network issues.


JACOB partners with industry leaders to give you the latest network technologies along with high levels of security, availability and performance.


The Jacob Difference
Industry-leading Partners We partner with networking powerhouses like HP, Cisco, Brocade, Mellanox Technologies and Dell.


Expertise
Our certified engineers have hands-on expertise in wired as well as wireless networks. We can work on emerging technologies and your legacy environment.
Vendor Neutrality
We work with multiple vendors so that you will receive the solution that best fits your needs, or we'll custom-design one just for you.
End-to-End
You'll get a single Networking team that will follow your entire project, from consultation and diagnostics to architecture and deployment. No third-party hand-offs.
Problem Remediation
Your network performance problems can be diagnosed by our engineers remotely or onsite. We'll design a tailored, component-level or system-level solution that can be tested and confirmed upfront in our Demo Lab before it is deployed.
One-call Client Support
Your one call, email or text away with one-on-one product advice or solution support.
Jacob Networking Solutions Give You:

Improved Productivity Software Defined Networking (SDN) solutions improve productivity of the IT staff and users.
Better Resource Allocation
Automate many of the tasks that were originally time-consumers, and reallocate staff resources to more value-added projects.
Improved Security
With built-in security support for Layers 1 through 3, you can use Software Defined Networking to tighten up your network and eliminate the need for expensive security solutions.
User Satisfaction
End complaints about sluggish network performance caused by BYOD and streaming that are eating up bandwidth and straining your entire infrastructure.
SLA Compliance
Gain confidence that you can hit mandatory performance definitions established in your SLAs.
Secure end Points
Establish end-to-end controls to define access, traffic and filtering.
Flexibility and Scalability
Simplify modifications that used to be cumbersome and time-consuming. Virtual networking can centralize management and facilitate changes easily.
Reduced Downtime
Perform upgrades with ease. Monitor and act on downtimes quickly and efficiently.
Need Anything Else?
Networking clients often purchase these products:


• Networking Workstations

• Managed Switches

• Security Routers

• Secure Wireless

• Network Security

• Network Cables

• Transceivers and Multiplexers

• Video Conferencing


JACOB offers next-gen IT solutions. But we also offer more IT products and faster delivery. If you're a business, government agency, school or not for profit call us today.