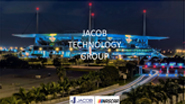 READ OR DOWNLOAD:
Jacob Companies
Official Technologies Provider for Jacob Companies
Jacob Companies one of the largest builders in the US based out of West Palm Beach Florida is the parent company of Jacob Technology Group (JTC). With projects such as Dolphins Stadium / Sun Life Stadium Renovation, Banyan Cay Resort & Golf, Jacksonville Jaguars Stadium and Chewy.com buildouts, General Motors Delivery Center and many more, JTC will give your project the same respect as our largest ones.
Wireless
Because you need security, reliability, scalability and performance from all corners of your facility, you need more than an off-the-shelf Wi-Fi solution. You need a Wireless package that is customized for your operation. We can do that.


How is your Wi-Fi working?


Get your users connected. Keep your network secure. When we first meet with IT managers, we hear these concerns:


My medical teams say they can't download records fast enough, and it's impacting patient waiting times. What is the best way to provide secure Wi-Fi to my guest users? What is the best solution to get Wi-Fi to a large outdoor space? Our Wireless team has solved all of these Wi-Fi challenges. Here's how we do it.


The JACOB Difference

We lead the industry in Wireless site surveys, discovery & analytics, solution design and project deployment, using a variety of state-of-the-art tools:


We engineer and customize Wireless solutions

Before proposing a Wireless solution, our Wireless team utilizes exclusive assessment tools and sophisticated analytics that consider facility, construction, typical user tasks, number of users and devices, security requirements, antenna requirements and desired performance.
Our pre-deployment evaluations:


• Identify critical coverage requirements by location or by area • Discover locations that present coverage challenges • Ensure wireless capacity in all required areas • Identify sources of RF interference
Our post-deployment assessments:


•Confirm that actual signal strength performs as predicted in critical and challenging spaces •Measure and validate wireless throughout all required areas
We deliver state-of-the-art Wireless strategies that combine:


•Software-related components that ensure optimum user access, guest access, security, intrusion-detection and performance •Hardware-related components including wireless access points, switches and controllers) •We partner with from industry ground-breakers like 7Signal, Aerohive, Aruba, Brocade/Ruckus, Cambium, Cisco, Extreme Networks, Fortinet, Juniper Networks, Meraki, Mist Systems, Mojo Networks, Oberon, Riverbed/Xirrus, SonicWall, Sophos, Ubiquiti and Ventev.
Wireless Solutions
Wireless clients often purchase these products:


Wireless Access Points

• Meraki

• Aruba

• Aerohive

• Mojo Networks

• Ruckus

• Cisco


Wireless Accessories

• Access Points
• Antennas
• POE Switches
• Content Filtering
• Patch Cables
• Multigigabit
• Wireless Routers
• Aruba Instant
• PoE+
• 10 Gbe
• Injector