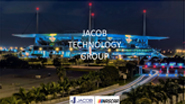 READ OR DOWNLOAD:
Jacob Companies
Official Technologies Provider for Jacob Companies
Jacob Companies one of the largest builders in the US based out of West Palm Beach Florida is the parent company of Jacob Technology Group (JTC). With projects such as Dolphins Stadium / Sun Life Stadium Renovation, Banyan Cay Resort & Golf, Jacksonville Jaguars Stadium and Chewy.com buildouts, General Motors Delivery Center and many more, JTC will give your project the same respect as our largest ones.
Structured Wiring
Professional Cabling is Essential

Did You Know That Communication Wiring is the Most Critical Part of Communication Infrastructure? It Is! Even the most technically advanced equipment will fail or fall short of its full potential if the wiring is installed incorrectly or if sub-standard cable and equipment are used. Basically, "what you don't see will hurt you." At Jacob, we completely understand this and that's why we work with companies that hold the highest standards in the industry.

Our Commitment to You

• Name brand materials on all orders • All horizontal cables will meet the standards of ANSI/TIA/EIA-568 • All horizontal cables will be properly labeled • Each cable will be tested and certified.

If you're not getting the above service from your existing provider, then you're being short-changed! You are not getting the full potential from your cabling that you deserve and have paid for!

Contact Us , and Find out why so many companies use Jacob exclusively!
Need Anything Else?
Networking clients often purchase these products:


• Networking Workstations

• Managed Switches

• Security Routers

• Secure Wireless

• Network Security

• Network Cables

• Transceivers and Multiplexers

• Video Conferencing


JACOB offers next-gen IT solutions. But we also offer more IT products and faster delivery. If you're a business, government agency, school or not for profit call us today.