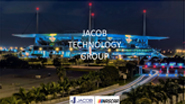 READ OR DOWNLOAD:
Jacob Companies
Official Technologies Provider for Jacob Companies
Jacob Companies one of the largest builders in the US based out of West Palm Beach Florida is the parent company of Jacob Technology Group (JTC). With projects such as Dolphins Stadium / Sun Life Stadium Renovation, Banyan Cay Resort & Golf, Jacksonville Jaguars Stadium and Chewy.com buildouts, General Motors Delivery Center and many more, JTC will give your project the same respect as our largest ones.
Construction
JACOB is a nationally certified, WBENC, woman- owned, multifaceted construction firm with a focus on construction, design and building services, structural concrete, and technology.

We specialize in Hotels, Stadiums & Athletic Facilities, Parking Garages, Automotive Dealerships and High Rise Structures.

• As a full-service organization, we provide our clients with a wide range of design and technical support services for architecture, engineering, technology and land planning and development.

• The key to our success is in understanding that we are an extension of the owner. We act in the owners' best interest from the inception of the project in order to ensure its success. By offering preconstruction services and providing multiple contracting solutions to the owner, we understand that the relationship between the owner and ourselves is of greater value than one project alone.

• The JACOB team feels that building a relationship with our client creates trust and an understanding of the client's need and is mutually beneficial for all.

TECHNOLOGY SERVICES

STRUCTURED CABLING
• Project Management
• Moves, Adds, Changes
• Certified Test Reports
• Single-site or Campus

IT SUPPORT SERVICES
• On Site Services
• Server Relocation
• Desktop Relocation

BURN-IN AND STAGING CENTER
DOCUMENTATION SOLUTIONS


ELECTRICAL SERVICES

We offer a multitude of full-service electrical contracting solutions that include: • Power & lighting
• Mission Critical
• Fire Alarm
• Service & Maintenance
• Emergency Response
• Bucket Truck Service
• High Voltage
• Low Voltage
• Preventative
• Maintenance
• Energy Conservation Programs

Bundled Services
Jacob offers the ability to bundle equipment and services in order to save the customer money! Our services include: Structured Cabling, VoIP / Phone Systems, Surveillance, Audio Video, Optical Fiber, Multi-Dwelling, and Subcontracting technical services. We are your one-stop-shop for every communications solution!

Whether your company needs one work station or a complete call center, Jacob is the professional telecommunications company that can get the job done! Aside from working with residential and commercial customers, Jacob can also be subcontracted by other telecommunications companies on a per-project basis to fulfill installation and/or service maintenance contracts.