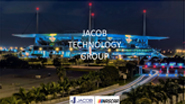 READ OR DOWNLOAD:
Jacob Companies
Official Technologies Provider for Jacob Companies
Jacob Companies one of the largest builders in the US based out of West Palm Beach Florida is the parent company of Jacob Technology Group (JTC). With projects such as Dolphins Stadium / Sun Life Stadium Renovation, Banyan Cay Resort & Golf, Jacksonville Jaguars Stadium and Chewy.com buildouts, General Motors Delivery Center and many more, JTC will give your project the same respect as our largest ones.
Program Management
Project planning, delivery, control, and support. Jacob can do it all!


Managing projects requires a dedication to detail. Plus a sensitivity to scope, timeline and costs. Along with the ability to unite and align stakeholders.


Our Program Management team has experts with years of project experience. From a simple software or cable installation to a full-blown data center build or disaster recovery strategy, we can ensure that your project hits your parameters. We utilize our own in-house staff rather than handing it over to a third-party contractor. That puts us in control, and ensures that all aspects of your project will be done right.

The Jacob Difference
Proven Success
With over 25 years of experience managing IT-related projects, we've seen it all and can handle complex challenges.


Agile Approach
Our agile project management approach considers changes in scope and functionality so the end deliverable will represent real value to your organization.

Vendor Management
We coordinate all work with vendors, from contract negotiation to documentation handoff.

Access and Visibility
You'll get continual visibility into costs and schedule with access to our project management tools and processes.

In-house Teams & On-staff Experts
We won't hand you over to a third party contractor. You'll work directly with our in-house technical teams and certified experts who can handle everything from cabling to custom engineering.

Culture Alignment
No two operations are alike. We consider your corporate culture to ensure smooth transitions and buy-ins. And where stakeholders have conflicting demands, we facilitate agreement toward outcomes and expectations.

Team Communication
Close communication with all those involved (client, technical support and vendors) assures that everyone is working under common assumptions.
Bundled Services
Jacob offers the ability to bundle equipment and services in order to save the customer money! Our services include: Structured Cabling, VoIP / Phone Systems, Surveillance, Audio Video, Optical Fiber, Multi-Dwelling, and Subcontracting technical services. We are your one-stop-shop for every communications solution!

Whether your company needs one work station or a complete call center, Jacob is the professional telecommunications company that can get the job done! Aside from working with residential and commercial customers, Jacob can also be subcontracted by other telecommunications companies on a per-project basis to fulfill installation and/or service maintenance contracts.