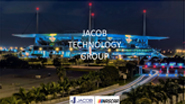 READ OR DOWNLOAD:
Jacob Companies
Official Technologies Provider for Jacob Companies
Jacob Companies one of the largest builders in the US based out of West Palm Beach Florida is the parent company of Jacob Technology Group (JTC). With projects such as Dolphins Stadium / Sun Life Stadium Renovation, Banyan Cay Resort & Golf, Jacksonville Jaguars Stadium and Chewy.com buildouts, General Motors Delivery Center and many more, JTC will give your project the same respect as our largest ones.
Solutions
Jacob specializes in commercial telecommunications systems and solutions. No matter the size of your business, our telecommunications experts will help you customize and create the communications solutions that will meet your business needs. We work with any size company and can complete projects of any size! We provide free consultations and project quotes, so call Jacob today to start moving forward with your telecommunications projects. Some of our commercial services are listed below:

Structured Cabling: At Jacob, we take pride in exceeding our customers' expectations with our expert structured cabling/wiring solutions. From a single station to over one thousand stations, no job is too small or too large for Jacob! Whether you are installing category 5e, category 6, or optical fiber, Jacob can service all of your communication needs.

Campus Wiring:: At Jacob, we have the experience and knowledge to meet both your underground and aerial needs. From floor-to-floor in a high-rise building or wiring communication systems across an entire campus, we have the professional experience and expertise to meet the project goals. Let us help you design and install your next communications-wiring project.

VoIP Phone Systems:: At Jacob, we specialize in VoIP and PBX phone systems. We install and maintain AVAYA, Nortel, InterTel, and most other major phone systems. PBX is our specialty, so we can program your entire system, move stations, or manager your system's voicemail and auto attendant features!

Moving: : Understanding your PBX phone system is one of the most important things we can do for you. At Jacob, we have successfully moved hundreds of phone systems across campuses, across town, and even out of state. Let our experienced team help move your PBX phone system, so that your transition is easy and worry-free!

Paging: Jacob knows that company paging systems vary in functionality based on the needs of the company. We are here to professionally design your system to meet your business needs. Call us today for a free proposal and project quote!

Surveillance: Jacob's video surveillance systems allow for your business safety and security from both internal and external losses. Monitor your business from the comfort of your own home. We offer free quotes for video monitoring and security camera systems, so call us today!

Access Control: Access control systems give the business owner control over who accesses various areas and when. Jacob offers both access cards and pin number access control systems. These can be used both outside the business and within the building. Call us today for a free quote and to discuss which solutions will work best for you!

Audio Video Systems: Jacob can customize and install AV systems that are perfect for your business. Our video conferencing technology will save your business time, resources, and finances because meetings can be done via our technology instead of traveling to other destinations. The advanced technology will take your business to the next level! Call us today for a free quote about the AV solutions we can offer your business!
Bundled Services
Jacob offers the ability to bundle equipment and services in order to save the customer money! Our services include: Structured Cabling, VoIP / Phone Systems, Surveillance, Audio Video, Optical Fiber, Multi-Dwelling, and Subcontracting technical services. We are your one-stop-shop for every communications solution!

Whether your company needs one work station or a complete call center, Jacob is the professional telecommunications company that can get the job done! Aside from working with residential and commercial customers, Jacob can also be subcontracted by other telecommunications companies on a per-project basis to fulfill installation and/or service maintenance contracts.